What Is Animation?
(2014, 2'48", HD)
Veteran British animator Bob Godfrey (1921-2013) answers the question "What Is Animation?" His answer is by turns witty, iconoclastic and insightful and all the while is acted out by a tiny man in a bowler hat.
This hand-drawn film is based upon an interview recorded by Martin Pickles in 2006 at Bob's Acme Studio in South East London. You can read the rest of the interview here.
An earlier version of the film was made especially for the Bob Godfrey retrospective at the Bradford Animation Festival in November 2013. Meeting Bob Godfrey at Animafest Zagreb in 2004 inspired Martin to become a full-time animator and to study Animation at the Royal College of Art.
Credits
Narrator: Bob Godfrey
Interview Transcription: Jules Shevlin
Script Editor: Anna Minton
Sound Design: Tom Lowe
Music: Tanera Dawkins
Animation/Direction/Production: Martin Pickles
Production Company: Sagging Jaw Productions
Articles
Here is an article about the film by Alex Widdowson for animateddocs.com
Screenings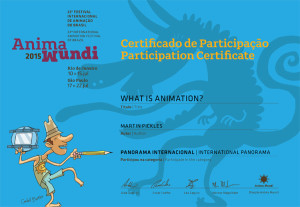 2016 etc.
London Animation Club, London, 9th January 2018
9th British Shorts Film Festival, Berlin, 21st January 2016
Leeds Beckett University, Leeds, UK, 20th January 2016
2015
Crystal Palace International Film Festival, 14th November 2015