Ward
(2014/15, 1'00", HD)
An experimental film in which white lines describe abstract shapes and constructions in hard outlines. As the film progresses, the drawings become more and more detailed until we realize they are in fact details of a drawing of a hospital corridor.
The film deliberately references abstract films by Walter Ruttman, Viking Eggeling and Hans Richter, although in Ward the final image is entirely figurative.
Ward was developed from an idea by Ilona Sagar for sequences for a live-action film, which were never used. The drawing is taken from a photograph I took of the corridor outside the ward in King's College Hospital in London where my son Daniel was born.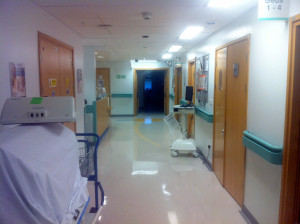 Ward was originally made for the One Minute Volume 8 touring programme of artists' films and videos, curated by Kerry Baldry, alongside works by Laure Prouvost, John Smith, Alexander Costello, Guy Sherwin, Tina Keane and Katherine Meynell.
Film  Festival Screenings
In the Am1nation programme at Animate Open: Parts & Labour at QUAD, Derby, UK, 19th December 2015
PSSST! Silent Film Festival, Competition II, Trešnjevka, Poland, 6th November 2015
Just A Minute online film festival, 7th October – 1st December 2015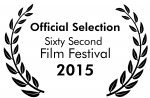 Sixty Second Film Festival, Vashon Island, Washington, USA, 27th September 2015
60 Seconds or Less Video Festival, Washington College in Chestertown, Maryland, USA, 27th April 2015
Selected as one of ten films at 60seconds Film Festival for screenings in open spaces in Copenhagen, 23rd-29th March 2015.
One Minute Screenings
As part of Kerry Baldry's One Minute – Volume 8 touring programme of artists' films and videos:
Bloc Projects, Sheffield, 4th February 2016
One Minute Hull, Artists' Moving Image Festival, 6th – 8th November 2015, Hull, 6th November 2015
Bloc Projects, 71 Eyre Lane, Sheffield, 2nd July 2015
c.a.r. media art fair in Ruhr, 30th May 2015
LightNight Liverpool 2015, 15th May 2015 in a continuous screening of One Minute volume 8 between 4pm and 11pm at Liverpool Small Cinema 57-59 Victoria Street
Galeria Sztuki, Art Affairs, Ul. Szeroka 20/21, 80-835 Gdansk, Poland, 28th and 29th November 2014
Sleepwalkers International Short Film Festival at The Baltic Film and Media School, Estonia, 20th November 2014 
Furtherfield gallery, McKenzie Pavilion, Finsbury park, London, 1st – 23rd November 2014
The Helfa Gelf Art Trail at Ty Coch Farm Nature Reserve, Nantlle, over two weekends in September 2014