The Curtains Of Zagra
(2014, 5'15", hand-drawn animation in Flash, HD)
A hero with a thousand faces seeks the Moustache of Destiny.
A horseman sets off on a quest one morning and is diverted into the Underworld. Here he retrieves a magical moustache which affords him magical powers, such as flight and invulnerability. Finally returning home, he uses the moustache to slay his nemesis and restore the moustache to its rightful owner.
This comically Surreal film contains visual references to the stories of Odysseus, The Wandering Knight, The Man With No Name, Don Quixote, Icarus and Pegasus and the paintings of Salvador Dali, Max Ernst, Sydney Nolan, Paul Nash and Rene Magritte. Thematically it is inspired by the ideas of Joseph Campbell and Carl Gustav Jung on mythology and the identity of the hero.
The title is taken from a place in Spain where the locals use curtains instead of doors, which was also the location of many Spaghetti Westerns.
Credits
Song composed by Mikey Georgeson
Song performed by Mikey Georgeson & The Civilised Scene (Simon Breed, Ben Handysides, Arec Koundarjian, Simon Love, Iain McCallum and Nathan Thomas)
Film design by Martin Pickles and Mikey Georgeson
Directed and animated by Martin Pickles
Screenings
Bang Awards, Torres Vedras, Portugal, 26th September – 2nd October 2016
7th Cairo Video Festival Rescreening "In A Nutshell", Cairo, Egypt, 2nd May 2016
7th Cairo Video Festival, Cairo, Egypt, December 2015
Interference Festival Freeform Contest (online), Poland, September 2015
Supertoon, Zagreb, Croatia in the Animated Music Video section,  26th – 31st July 2015
UEL Shorts, Arcola Theatre, 24 Ashwin Street, E8 3DL London, 7th June 2015
TriSpace Gallery, Bermondsey, London, 21st October 2014
Spotlights at Whirlygig Cinema, Hackney Attic, London, 6th August 2014
Launched on Pop-Z TV YouTube channel as official promo, 8th April 2014
The Grey Curtains Of Zagra
Earlier this year I also produced a black and white version of the film.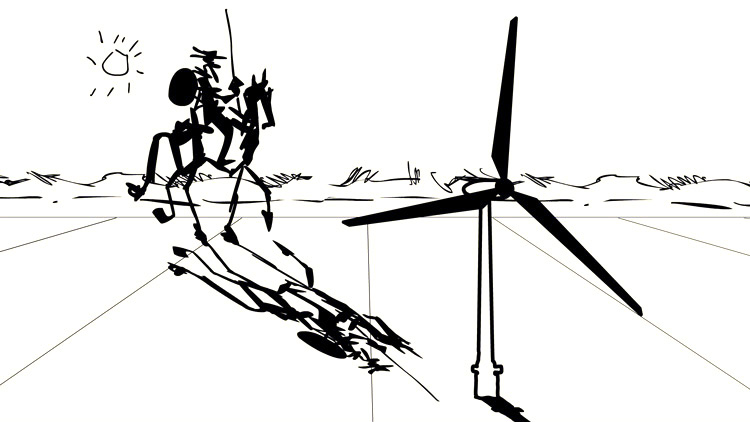 Tilting at wind-turbines.