(2006, 0'50", 35mm, b&w, silent)
A recently-discovered film clip of Greenwich Observatory in flames in the aftermath of the attack by anarchist Martial Bourdin on 15th February 1894. This clip was the centre-piece of the 2006 exhibition "Greenwich Degree Zero" by artists Rod Dickinson and Tom McCarthy.The exhibition was shown at the Hayward Gallery Project Space from December 2011 to January 2012.
The exhibition Greenwich Degree Zero was a collaboration between artist Rod Dickinson and writer Tom McCarthy, whose starting point was Martial Boudin's attempted destruction of the Greenwich Observatory on 15th February 1894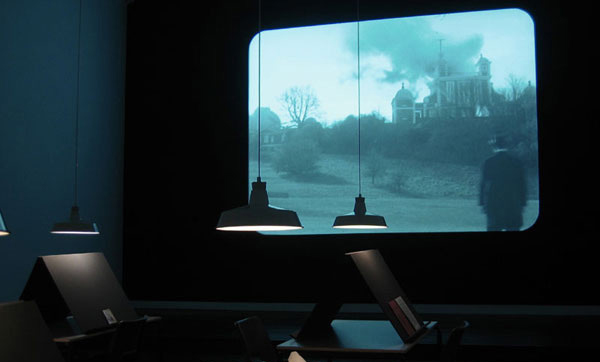 The film installation as it appeared in the exhibition.
FILM CLIP CREDITS

Rod Dickinson/Tom McCarthy

EXHIBITION DETAILS

'Greenwich Degree Zero'

by Rod Dickinson and Tom McCarthy

The 2012 Show

Hayward Project Space
Southbank Centre
Belvedere Road
London
SE1 8XX
17 November 2012 – 6 January 2013

The 2006 Show

Beaconsfield Gallery
22 Newport Street
London SE11 6AY
22 February ­ 2 April 2006
Wednesday ­ Sunday 12-6pm
Preview ­ Tuesday 21 February from 6pm
For more information, please contact Rachel Fleming-Mulford
T: 020 7582 6465
E: rachel@beaconsfield.ltd.uk
http://www.beaconsfield.ltd.uk

REVIEWS AND LINKS